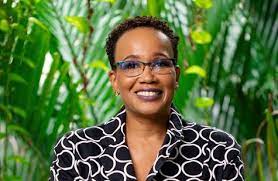 Manager, Project Management and Research at Jamaica Business Development Corporation (JBDC) & STEM Builders Learning Hub Board Advisor
Opal Levy is a powerhouse individual who wears numerous hats.
As co-founder and Senior Management Consultant at Sisters' Ink Jamaica Limited, she specializes  in strategic planning and business transformation and work assiduously to build the capacity of our local entrepreneurs.
Her Corporate engagement had her in various positions in the financial industry – Regional Manager – Wealth Management at NCB- Capital Markets, VP of Wealth Management at GK Capital and International Private Banker at Scotia Private Client Group. Having worked for over 25 years in banking, retail and investment at global entities such as Scotiabank and GK Capital, Opal's executive track record has produced exceptional bottom-line results in multi-million-dollar business units. She has consulted with enterprises and start-ups to provide CEO/Board-level coaching, cultural transformation, strategic business coaching and facilitation of mergers and acquisitions. She also worked as Senior Product Executive at Courts Jamaica Limited contributing to the development in the range of furniture and accessory offerings of the organization.
Opal was also the Network Manager for Alpha Angels, a network of investors who are leaders in the entrepreneurial community. She is currently the Chairman of the Animated Industry Working Group in Jamaica and a Director (responsibility for membership) at the Small Business Association of Jamaica.
While her amassed knowledge and experience is impressive, the foundation for her success in the financial and coaching industry stems from her expertise in leadership, executive and team performance and personalized vision. Her coaching style is rooted in a simple but wholly profound strategic approach—shifting the focus from external factors and zooming in on transformation through the formulation of a personal and professional life plan. This process allows clients to step outside of their comfort zone to create and execute on a well thought out vision for their life and/or business.
Certification and Credentials
Master's in Business Administration-International Business from the Mona School of Business, University of the West Indies

Bachelor of Science in Banking and Finance from the University of the West Indies

Leadership Excellence Intervention

Performance Appraisal and Management

Training the Trainer

Coaching Excellence

Strategic Management

Customer Service Management
Born to lead, coach and transform lives, Opal loves to read, inspire others and spend time with her three adults, Ashley, Matthew and Cameron.